Welcome to CentralParkHistory.com, the most complete online history of Central Park the world's most famous public park! All content and images contained on this site are taken from "The Park and the People: A History of Central Park" written by Roy Rosenzweig and Elizabeth Blackmar. For more information, or to order a copy of the book, please click on the cover below: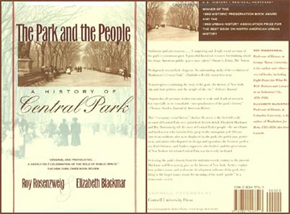 The Timeline
CentralParkHistory.com is divided up into an easy-to-follow timeline, covering major events from the 1850's through present day. To get started, click here.

Who's Who
Ever wonder who's responsible for the creation of the park? Or who the most influential figures are in the park's history? To find out who's who, click here.





The Central Park Poster
CentralParkHistory.com has been made possible in part by a donation from the creator of the Central Park Poster. To find out more about this amazing poster or to order, please click here or on the image below.



Check out the other Central Park Merchandise.